Although it may not be very well known, it is documented in the NX NASTRAN QRG that the offset term (ZOFFS) should not be used when differential stiffness is calculated in solution 103 (linear buckling) as "the differential stiffness calculation does not include the offset vectors" for CQUAD4 and CQUAD8 elements.
Interestingly, this note is omitted from the QRG for CQUADR elements which were originally introduced to add a drilling DOF to the CQUAD4 element.
Also interesting is within the realm of linear buckling, it is a common exercise to show that eccentricity does not impact the buckling eigenvalue.
With that exercise informing me that the offset should matter, and the QRG informing me that the adding an offset with result in incorrect buckling eigenvalues for CQUAD4 and CQUAD8 elements, I had to investigate.
To test this idea with a FEM, I created six different rectangular plate models in which offsets and element types were varied: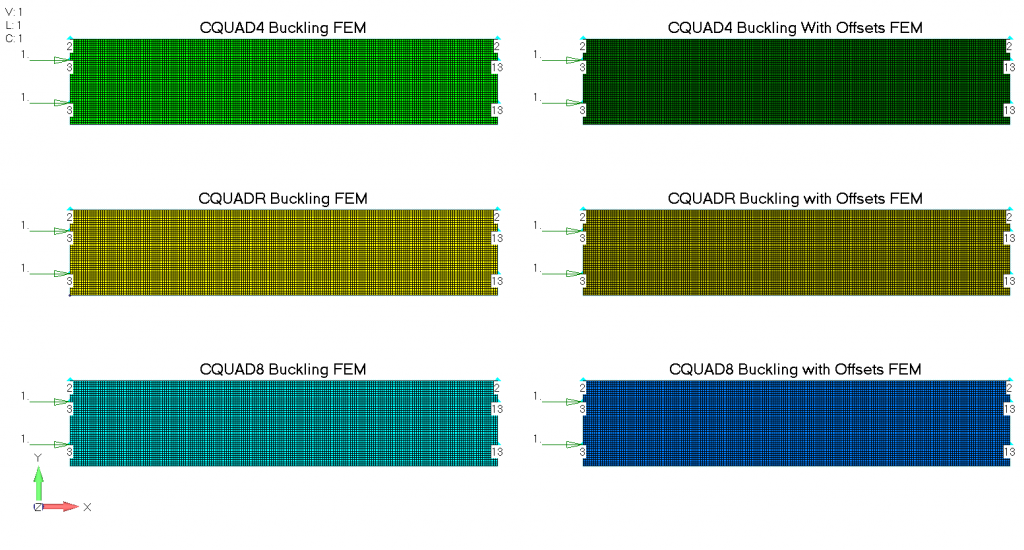 M
etallic plate test fem buckling models with plate boundary conditions.
Each plate has the dimensions of 1"x5" with a plate thickness of t = 0.05", and all plates are made of a generic Aluminum with E = 10.3 Msi. One of the cases I investigated was a simple Euler-column buckling solution. To that end, a unit load was applied to the plate at one end, and each plate was simply supported. Using equation 5, we can calculate the Pcr=42.4 lbs:
Analytical Euler column buckling results


The results from Nastran paint a clear picture, and quickly enumerate why using CQUADR's are the preferred element. All three element types produce almost exact results when no offsets are applied to the model, but only CQUADR elements correctly produce an unchanged eigenvalue when using offsets.